Librarian Recommends: Oct 26, 2018
Submitted by

tvanhelden

on Fri, 10/26/2018 - 2:29pm
Librarian Recommends
Oct. 26, 2018
[From JGrisham.com]
Pete Banning was Clanton, Mississippi's favorite son—a decorated World War II hero, the patriarch of a prominent family, a farmer, father, neighbor, and a faithful member of the Methodist church. Then one cool October morning he rose early, drove into town, walked into the church, and calmly shot and killed his pastor and friend, the Reverend Dexter Bell. As if the murder weren't shocking enough, it was even more baffling that Pete's only statement about it—to the sheriff, to his lawyers, to the judge, to the jury, and to his family—was: "I have nothing to say." He was not afraid of death and was willing to take his motive to the grave.
            In a major novel unlike anything he has written before, John Grisham takes us on an incredible journey, from the Jim Crow South to the jungles of the Philippines during World War II; from an insane asylum filled with secrets to the Clanton courtroom where Pete's defense attorney tries desperately to save him. 
            Reminiscent of the finest tradition of Southern Gothic storytelling, The Reckoning would not be complete without Grisham's signature layers of legal suspense, and he delivers on every page.
Eve Duncan series #24
Catherine Ling series #5
[From Goodreads]
With his dying breath, Carl Venable, head of the CIA task force on terrorism and Jude Brandon's final link to terrorist ringleader Max Huber, gives Brandon a mandate: to keep his daughter, Rachel, safe at any cost. But Rachel Venable has a shocking, twisted past of her own, one that comes rushing back after her medical clinic in Guyana is attacked by Huber—the same man who murdered her father and kept her imprisoned for months. Brandon and Catherine Ling, Rachel's longtime ally and fierce protector, are determined to keep Rachel out of danger, but she knows that it's impossible to stay hidden when Max Huber wants you dead.
As Rachel and Brandon race against the clock to bring Huber down before he can orchestrate a nuclear explosion that will lay waste to the west coast, they also fight a growing attraction to each other – an attraction that could prove just as dangerous as Huber himself. In this gripping, fast-paced novel full of dark secrets and tangled lies, one thing is clear: everyone has a vendetta, no one will rest until they get their revenge.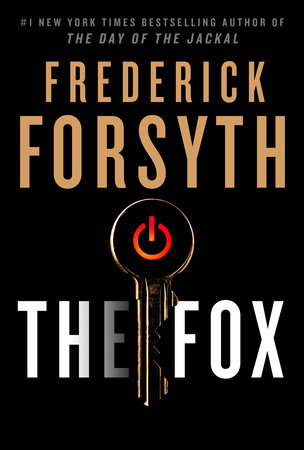 [From Penguin Random House]
Former chief of the British Secret Intelligence Service Adrian Weston is awoken in the middle of the night by a phone call from the Prime Minister. Her news is shocking: the Pentagon, the NSA, and the CIA have been hacked simultaneously, their seemingly impenetrable firewalls breached by an unknown enemy known only as "The Fox." Even more surprisingly, the culprit is revealed to be a young British teenager, Luke Jennings. He has no agenda, no secrets, just a blisteringly brilliant mind. Extradition to the U.S. seems likely--until Weston has another idea: If Luke can do this to us, what can he do to our enemies?
After conferring with both the American President and the Prime Minister, Weston is determined to use "The Fox" and his talents to the advantage of the two nations. But doing so places the boy on a geopolitical minefield. Adrian must stay one step ahead of multiple invisible enemies, all while finding a way to utilize the most powerful--and most unpredictable--weapon of all. 
With his trademark research and deep knowledge of the rules and practices of international intrigue, Forsyth takes on tomorrow's threats in this race-against-the-clock thriller.
[From Grand Central Publishing]
From New York Times bestselling writer Jeff Abbott, a psychologically intense and emotionally gripping new suspense novel about a daughter's desperate search for her missing mother-one that may lead her closer to home than she ever anticipated.
My mom would never leave me. 
This has been Mariah Dunning's motto. Her compass. Her belief. So when she glimpses her mother–who's been missing for the past year–on the other side of a crowded food court, Mariah's conviction becomes stronger than ever. Or is she losing her mind?
An unlikely coincidence?
When Beth Dunning disappeared without a trace, suspicion for her murder-despite the lack of a body or any physical evidence-immediately fell upon Mariah's father. Until Mariah stumbles upon two other recent disappearances from Lakehaven. And all three women had the same name: Beth. 
Or a sinister connection?
Mariah would give anything to find out what happened to her mother, and clear her father's name. But the truth may be more devastating than she could have imagined…
Dragonwatch series #2
[From Shadow Publishing]
After a humiliating defeat at the hands of Kendra and Seth, Celebrant, King of Dragons, prepares to unleash his fury and take control of his native preserve. Two of the seven dragon sanctuaries have already fallen. Will Wyrmroost be next?
Armed with secret information from a new ally, Celebrant seeks a talisman that will guarantee victory in the war against the humans. With a cursed castle and traitorous creatures standing in the way, Kendra and Seth must attempt to foil Celebrant's plan and beat him to his prize.