Librarian Recommends: Oct 12, 2018
Submitted by

tvanhelden

on Fri, 10/12/2018 - 9:40pm
Librarian Recommends: Oct 12, 2018
This week I wanted to focus more on the bestseller authors that had books published this week.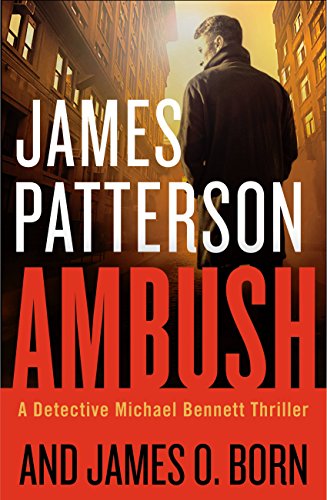 Firstly, James Patterson, who has a book published almost every week, had a new Michael Bennett book, Ambush, #11, become available this past Patterson Monday. (Yes, Patterson publishes on Monday instead of industry convention, Tuesday.)
An anonymous tip about a crime in Upper Manhattan proves to be a set-up, taking an officer down-and it's not Michael Bennett. 
The life of New York's top cop is not the only one at risk. One of Bennett's children sustains a mysterious injury. And a series of murders follows, each with a distinct signature, alerting Bennet to the presence of a professional killer. (Goodreads) 
John Sandford, in his Virgil Flowers series, debuted Holy Ghost, # 11, this week. Who doesn't want more stories from our neighbor, Minnesota? This story will challenge your desire to see miracle. 
Pinion, Minnesota: a metropolis of all of seven hundred souls for which the word "moribund" might have been invented. Nothing ever happened there and nothing ever would—until the mayor of sorts (campaign slogan: "I'll Do What I Can") and a buddy come up with a scheme to put Pinion on the map. They'd heard of a place where a floating image of the Virgin Mary had turned the whole town into a shrine, attracting thousands of pilgrims. And all those pilgrims needed food, shelter, all kinds of crazy things, right? They'd all get rich! What could go wrong? (Goodreads) 
Tana French, the author of The Trespasser, brings us new detective novel, The Witch Elm, that has been eagerly awaited by her many fans. Pick this standalone novel up at your library and check it out for yourself. 
Toby is a happy-go-lucky charmer who's dodged a scrape at work and is celebrating with friends when the night takes a turn that will change his life: he surprises two burglars who beat him and leave him for dead. Struggling to recover from his injuries, beginning to understand that he might never be the same man again, he takes refuge at his family's ancestral home to care for his dying uncle Hugo. Then a skull is found in the trunk of an elm tree in the garden - and as detectives close in, Toby is forced to face the possibility that his past may not be what he has always believed. (Goodreads) 
To break away from the police novels, Joe Ide's Wrecked a PRIVATE detective novel, came out this week as the 3rdinstallment of his IQ series. Hailing from one of LA's toughest neighborhoods, East Long Beach, IQ is a new kind of detective that is well worth the read. 
Isaiah Quintabe--IQ for short--has never been more successful, or felt more alone. A series of high-profile wins in his hometown of East Long Beach have made him so notorious that he can hardly go to the corner store without being recognized. Dodson, once his sidekick, is now his full-fledged partner, hell-bent on giving IQ's PI business some real legitimacy: a Facebook page, and IQ's promise to stop accepting Christmas sweaters and carpet cleanings in exchange for PI services.
So when a young painter approaches IQ for help tracking down her missing mother, it's not just the case Isaiah's looking for, but the human connection. And when his new confidant turns out to be connected to a dangerous paramilitary operation, IQ falls victim to a threat even a genius can't see coming. (Goodreads) 
Lastly, but far from last, Haruki Murakami published Killing Commendatore's English translation this week to strong emotions from his legion of fans. If you're a newbie to Murakami, READ THIS BOOK!
The much-anticipated new novel from the internationally acclaimed, best-selling author of 1Q84 and Colorless Tsukuru Tazaki and His Years of Pilgrimage, Killing Commendatore is an epic tour de force of love and loneliness, war and art--as well as a loving homage to The Great Gatsby--and a stunning work of imagination from one of our greatest writers.(Goodreads)